What is the meaning of kids growth chart?
A kids' growth chart is a measurement tool that measures the growth rate of your kid. They compare your kid's weight, height, and head size against children belonging to the same age.
Thus, it compares your child's growth rate to other same-aged kids and states if your kid is growing steadily or not. A growth chart also measures the pace of your kid's growth and points out if there is any problem in their growth.
Growth charts differ based on the gender and age of your toddler. As we all know, the growth of a girl differs from the growth of a boy. So, parents have to follow different growth charts based on their kid's gender and age.
How to use a kids' growth chart?
Kids' growth chart measures the growth of your kid. To prepare this chart, millions of kids are examined. Thus, the average height, weight, and head size of different aged boys and girls are calculated. So, with a growth chart, you can compare your kid's growth with the percentile of other kids and understand if your kid is growing properly or not.
How to ensure proper growth of a kid?
There can be many reasons for growth disorder. Hormonal deficiency, thyroid disorder, constitutional growth delay, genetic disorder, eating disorder, and others can cause a growth disorder. Regular exercise, healthy food, proper sleep, emotional stability, and others can ensure healthy growth of your kid.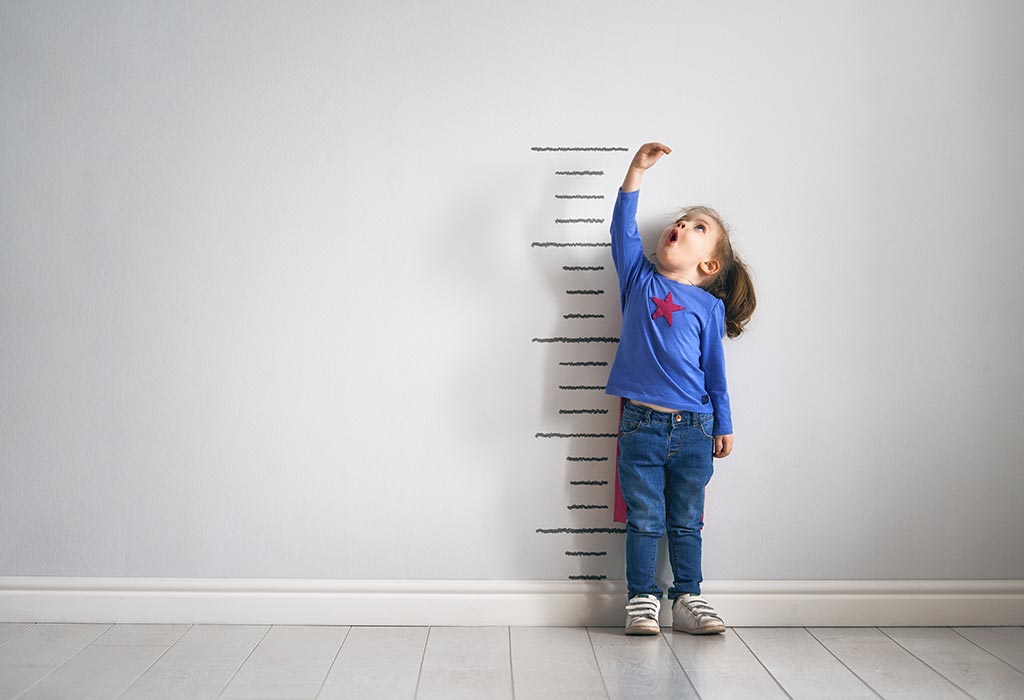 Healthy kid-friendly recipes
To ensure the proper growth of a kid, parents must focus on their daily diet. Kids must consume healthy and nutritional food items regularly. All vitamins, proteins, minerals, and fibres help them grow. There are many healthy kid-friendly recipes available on the internet which every parent should try. Broccoli cheesy bread, bell pepper nachos, pizza stuffed zucchini, doughnut apples, and others can make a healthy and tasty meal for your kid.One of the healthiest recipes, thatensurethe sound growth of your kid is given below:
Multigrain Pancakes(Eggless) Recipe
Multigrain pancakes have all the nutritional components of different grains. This pancake aids your kid in his proper growth and keeps him healthy and fit.
Ingredients:
1 Tbspof Jowar Flour
1 Tbspof Besan Flour
1 Tbspof Ragi Flour
1 Tbspof Bajra Flour
1 Tspof Suji
2 Tspof Coriander Leaves
1/8 Tspof Jeera
1/4 Tspof Salt
1 Tspof Oil
Water as required
Method
Take a bowl and add Jowar, Besan, Bajra, Ragi, Suji, chopped coriander leaves, salt, jeera, and water. Mix everything well.
Heat oil in a pan.
Pour the batter on it.
Cook for a minute or two.
Flip the pancake to cook the other side.
Roast both sides evenly.
The pancake is ready for serving.
Sound growth is very important for a toddler. By using a growth chart and nutritional recipes, you can ensure the healthy growth of your kid.